This is  a great treatment if you are new to massage and aren't sure what you prefer. Perfect if you are choosing a gift for someone or if you have general aches, pains or stresses. This Newhaven Swedish massage is my most popular treatment.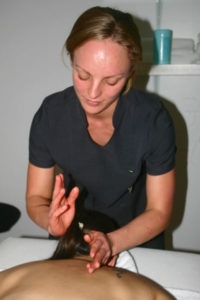 Swedish massage uses techniques which relax the muscles and break down areas of tension. During a massage your circulation will be increased which improves delivery of nourishment to cells. This is achieved by applying pressure in the same direction as the flow of blood returning to the heart.
Tension and tiredness in muscles are relieved and the elimination of toxins is encouraged. Fatty cells can be softened and broken down, nerves can be stimulated or soothed depending on the desired outcome of the massage.
Symptoms of stress, insomnia, anxiety and depression can all be alleviated as well as the immune system getting a boost, a reduction in pain and an increased feeling of well being. Regular massage can prevent problems caused by the build up of stress as well as improve your health and well being.
Newhaven Swedish massage: What to expect
On arrival a consultation will be carried out to find out about your health and well being. This will highlight any focus areas as well as deciding how to adapt the treatment specifically to your needs. It also allows you to ask any questions you may have as well as allowing the therapist to determine whether a treatment is suitable. (Treatment may be unsuitable due to some medical conditions, please see contraindications page for more details).
You choose the kind of treatment you would like. From relaxing and soothing to stimulating and reviving, or to work intensely on areas of tension. You can of course have a combination of all of these e.g. working into tension in the shoulders, relaxing massage and stimulating techniques used on the head or feet to complete the massage.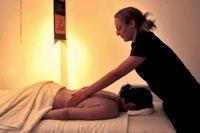 You will be able to change in private. Once you are on the massage couch the therapist will freshen your feet and ensure you are comfortable.
A massage may last for 30, 60, or 90 minutes. A 30 or 60 minute massage will focus on either one or two areas such as the back, neck and shoulders or arms, shoulders and face. A full body treatment needs a minimum of 60 minutes as the back, legs, feet, arms, hands, neck, shoulders, face and scalp are massaged.
At the end of the Newhaven Swedish massage you will be able to dress and then take a seat to have some water before going back out into the world.
The massage takes place in a Newhaven treatment room that is set up for the client's comfort. Pillows are provided to support the feet and backs of the legs during the treatment and extra blankets can be provided if the you feel the cold.