For clients experiencing chronic aches and pain we recommend a deep tissue massage in Newhaven. This is a much slower massage than the other styles provided. The upper layers of muscle are relaxed so that the therapist can then work much more deeply into the lower layers of muscle and fascia.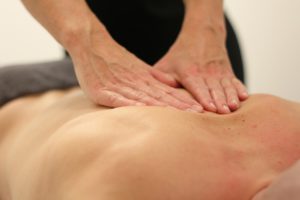 During a massage your circulation will be increased which improves delivery of nourishment to cells, this promotes healing and reduces inflammation. Muscle pain, tension and tiredness in muscles is relieved and the elimination of toxins is encouraged. Fatty cells can be softened and broken down, nerves can be stimulated or soothed depending on the desired outcome of the massage.
Symptoms of stress, insomnia, anxiety and depression can all be relieved as well as the immune system getting a boost, a reduction in pain and an increased feeling of well being.
Deep Tissue massage In Newhaven: What to expect
On arrival a consultation will be carried out to find out about your health and well being. This highlights any focus areas as well as deciding how to adapt the treatment specifically to your needs. It also allows you to ask any questions you may have as well as allowing the therapist to determine whether a treatment is suitable. (Treatment may be unsuitable due to some medical conditions, please see contraindications page for more details).
A massage may last for 30, 60, or 90 minutes. A 30 or 60 minute massage will focus on either one or two areas such as the back, neck and shoulders or arms, shoulders and face. A full body treatment needs a minimum of 60 minutes as the back, legs, feet, arms, hands, neck, shoulders, face and scalp are massaged, usually with deep tissue massage 60 minutes can massage all of these areas with most focus on the back and legs. A 90 minute treatment gives more time for the arms, neck, shoulders and scalp.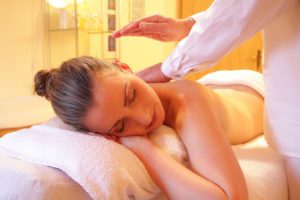 Please discuss your needs when you are booking your treatment and at the start of a session so that the time can be used in the best possible way.
You will be able to change in private. Once you are on the massage couch the therapist will freshen your feet and ensure you are comfortable.
It is important to give feedback to the therapist during the treatment particularly when working over areas of pain. Slow deep breathing helps keep the circulation flowing and it is better to have slightly less pressure and breathe deeply than have too much pressure and hold the breathe or tense the muscles.
At the end of the deep tissue massage in Newhaven you will be able to dress and then take a seat to have some water before going back out into the world.
The massage takes place in a Newhaven treatment room that is set up for the client's comfort. Pillows are provided to support the feet and backs of the legs during the treatment and extra blankets can be provided if the client feels they are cold.