Indian head massage is a 30 minute treatment so an ideal pick me up during a lunch break, a refreshing start to the day after a restless night or a way to unwind after a stressful day. It aims to release the stress accumulated in the tissues, muscles and joints of the head, face, neck, shoulders and upper back. Benefits of Newhaven Indian Head massage come from the massage itself as well as the properties of the oils used.
How Indian Head Massage is different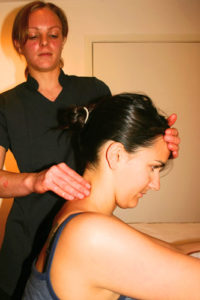 Physiologically Indian head massage increases blood and lymph circulation, releases sweat and sebum, relaxes and relieves tension, increases range of movement, soothes nerves and reduces sinus blockages and headaches.
Physically Indian head massage can stimulate hair growth, cell regeneration and improve the condition of skin and hair.
Psychologically Indian head massage improves feelings of well being and calmness, increases energy, aids sleep and concentration, and reduces stress
The choices of essential oils to be used during an Indian Head massage can be chosen to enhance the physical and physiological effects of the massage such as being relaxing, uplifting, warming or invigorating.
Champissage, or as it is commonly known, Indian head massage, is a seated massage performed through clothes as part of daily Indian life. Traditionally the skill is passed from mother to daughter and father to son.
We have adapted a Western version to this technique. The massage is invigorating and designed to reawaken the body and mind. It is performed seated although if a more gentle treatment is require you can lay down on the massage couch. You have the choice as to whether to use oils or to be massaged through clothes. In the Newhaven treatment room you are seated on a chair supported by pillows; plenty of extra supports are available for you to lean back on to or to rest forward onto the massage couch.
Newhaven Indian Head massage: What to expect
On arrival a consultation will be carried out to find out about your health and well being. This will highlight any focus areas as well as deciding how to adapt the treatment specifically to your needs. It also allows you to ask any questions you may have as well as allowing the therapist to determine whether a treatment is suitable. (Treatment may be unsuitable due to some medical conditions, please see contraindications page for more details).
Indian Head massage is usually a seated massage. However if you will be more comfortable lying down then this will be accommodated for you. This massage can be performed through clothes, the benefits of this are that if you are short of time e.g. on a lunch break, on your way to or from work you can be ready to begin and leave much sooner. Some people prefer to remain clothed, if you have arrangements after the massage leaving with oil on your skin may not be appropriate.
If you choose to have the massage with oils you will be given a towel to wrap around you under your arms so that only your upper back shoulders and neck are exposed. There are several oils to use from, these can be selected for their properties or personal preference.
You will be able to change in private and get comfortable on the massage couch or seat.
This massage lasts for 30 minutes and focuses on the upper back, neck, shoulders, arms, face and scalp.
At the end of the Newhaven Indian head massage you will be able to dress and then take a seat to have some water before going back out into the world.